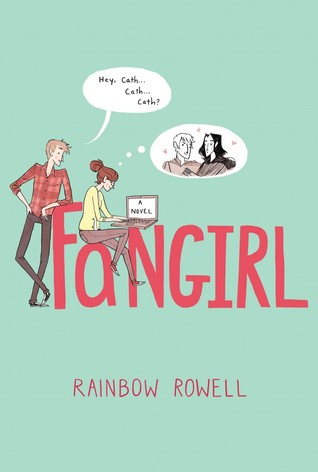 Title
Fangirl
By
Rainbow Rowell
Genre
NA Contemporary
Rating ⭐️⭐️
Synopsis
Cath and her twin sister Wren are starting college. Wren has decided the girls need to live their lives separately so Cath is on her own. Luckily she has her fan fiction to keep her busy. But college isn't like high school and Cath has a lot to learn about herself and growing up.
First Sentence
There was a boy in her room.
As I've been pushing myself through the Raven Cycle I've periodically needed a light book to break up the drama. Fangirl sounded like such a book. And it was...to a point. I flew through it in two sittings. I was addicted to the story of Cath and her life. The fan fiction...I couldn't seem to get invested in. I expected a light fluffy book about a girl obsessed with a series of books and her fan fiction and what I got was an issue book. Everyone has issues. Cath and her crippling social anxiety. Wren and her partying too hard. The mother that abandoned them. Their father is bipolar. The only one that didn't have any issues was Levi and he was way too perfect. Annoyingly so.
Fine. I can accept that it't not a light, silly story. It's an issue book. That's not realistic at all. Cath's Fiction Writing teacher giving her a break and letting her have more time to write the story. How Cath manages to even write the story at the last moment and win the prize. Levi's perfection. Wren's miraculous turn around. It was all too nicely and neatly wrapped up. Completely unbelievable. So what kind of book was it? A fluff read or an issue book? Make up your mind!
I didn't hate the book, but truthfully, I wasn't as enamored with it like everyone else seems to be.
Should you read it?
If you haven't read it go ahead. It's a fast read at the very least.