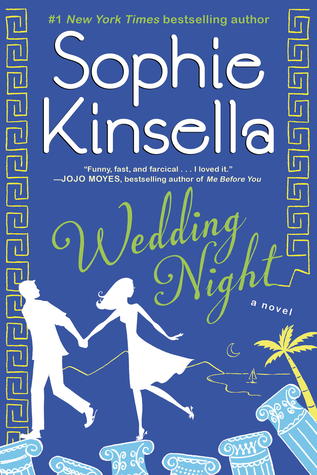 Title
Wedding Night
By
Sophie Kinsella
Genre
Chick lit
Rating ⭐️⭐️
Synopsis
When Lottie's long time boyfriend fails to propose to her she breaks it off. Heartbroken she jumps into a relationship with an ex boyfriend. They decide to elope and rush off to Greece where they first met for a honeymoon of a lifetime.
Lottie's sister Fliss has seen her sister do some drastic, crazy things after a breakup but nothing as serious as marrying a man she hardly knows. Determined to stop Lottie from making a horrible decision and regretting it forever, Fliss will stop at nothing to save her sister.
First Sentence
I've bought him and engagement ring.
After reading and loving Finding Audrey Sophie's YA book, I knew I wanted to read more by her. To my knowledge, her other books are all adult books that I would classify as chick lit. When this one came up as a Kindle Daily Deal. I snatched it up and began to read; needing something light and fluffy. Light and fluffy is exactly what I got. This story was so ridiculously crazy and fun. The banter between the characters was great and the crazy situations had me smiling and snickering. Despite being on the lighter side, this book was littered with words I didn't know the meaning of. Thank goodness I read it on my Kindle app so I could click on each word as it came up and look up the meaning with ease. Since I love learning new words, I found this fun.
So why did I only give it two stars? Well, because it got a little too ridiculous. It's kind of like that episode of SpongeBob (yeah, I'm going there) where SpongeBob rips his pants and after getting a few laughs just can't let it go. He keeps trying to drag out the humor until people are just plain sick of it. That's how I felt here. It just got so ridiculous that the humor started to go sour and by the last 50 or so pages I just wanted it to end!
So, sadly, while I'm not writing off Kinsella's other books, I was rather disappointed. I guess I expected more.
Should you read it?
If no amount of shenanigans irritate you and you want light and fluffy then, yes, go ahead and give this one a go.