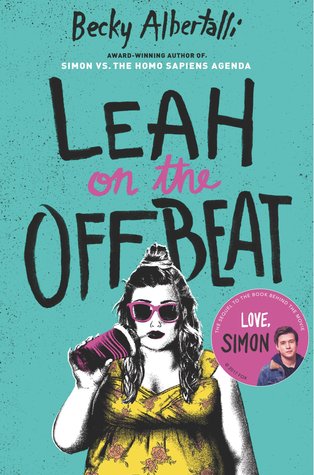 Title
Leah of the Offbeat (Creekwood #2)
By
Becky Allbertalli
Genre
YA contemporary
Format
Audio book
Rating ⭐️⭐️
Synopsis
Leah has always felt like the odd one out in her group of friends. She's the daughter of a single working mother while her friends come from happy whole homes and she's bisexual and hasn't told her friends. Not even her best friend Simon who's openly gay. When her tight-knit group of friends hit a few bumps in the road on the way to their perfect senior year prom Leah will have to open up or risk losing her future happiness.
First Sentence
I don't mean to be dramatic but, God save me from Morgan picking our set list.
I'm a tiny bit obsessed with Albertalli's books right now. Have you noticed? I wanted to know how Leah's life panned out after
Simon
so I got my hands on this one and had a listen.
I don't know if I'm having and overload of her books or if I was in a mood or if it was Leah but I didn't really like this one. It was cute and had the great writing and dialogue Allbertalli is so good at but the story fell flat for me. I wasn't invested at all and I found Leah overly annoying and bitchy for my taste. Still, I feel like the author was true to Leah. She is who she is and makes no excuses. I just wish she didn't annoy me so much.
I was glad she got her happy ending and I enjoyed seeing Simon again but so far this has been my least favorite