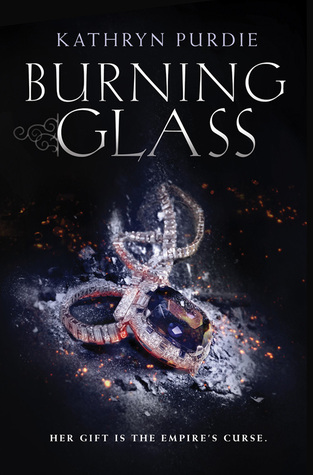 Title
Burning Glass (Burning Glass #1)
By
Kathryn Purdie
Genre
YA Fantasy
Rating ⭐️⭐️
Synopsis
Sonya is an Auraseer, she can feel the emotions of those around her. Spending most of her life in hiding to evade being used as a tool has failed. She is forced to work for the emperor as his guardian from any who would wish him ill. But Sonya's powers are anything but ordinary and with talk of a revolution and her growing feelings for the emperor's brother, Prince Anton, Sonya is getting in over her head.
First Sentence
I clutched the carved figurine of the goddess until a splinter of wood bit my finger.
Another book club read. Sheesh! I feel like all I'm managing to read is book club books. I would have read this book eventually anyway as I went to the author's signing and purchased a copy. In theory, a book about an Empath that is being forced to work for the emperor makes for an intriguing story idea, no? I thought so. Alas, the execution wasn't as great as the idea. For one, the book was far too long. At nearly 500 pages I found my eyes glazing over more than once. Sorry to say it, but the author made a huge mistake in the opening scene. Sonya, our MC, makes a huge mistake that makes her very repulsive to the reader and only makes it worse by showing virtually no remorse for her actions. So, right from the start you're left with a bitter taste in your mouth about this girl you're supposed to be reading about for the next 500 pages. I nearly put it down. And that's saying something because I rarely refuse to finish a book that my book club is reading.
I stuck with it though and it got a bit better. The political plot kept me reading but it wasn't as intricate and exciting as I prefer. Plus, there were parts that were completely unrealistic but I feel that they might be addressed in the second book in the series so I'm willing to overlook them. I didn't have to force myself through this one, perse, but nor was it a thrilling, unputdownable book. Sadly, I will not be finishing this series.
I do have to add a note here because I started reading some user reviews of this book on Goodreads after I finished it and was incredibly annoyed. They all were talking about how there was zero story and the whole book was just one big love triangle. What?! Don't be fooled by that crap! Those people seriously need to pick up a dictionary and look up what a love triangle is! There was NO love triangle in this book. It had a plot and was not just a romance. UGH! People irritate me!
Sorry, I'll step off my little soap box now.
Should you read it?
I'd recommend this to people who like romantic fantasies that are light on political intrigue.