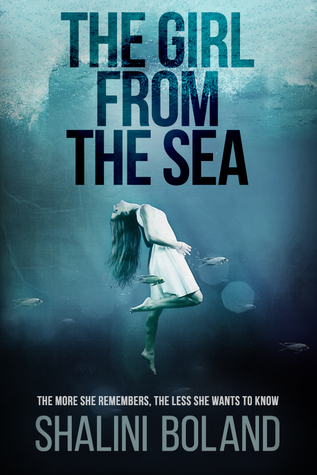 Title
The Girl From the Sea
By
Shalini Boland
Genre
Adult Suspense
Rating ⭐
Synopsis
Waking on a beach with no idea who she is or what her name is a woman searches for answers. Before the accident it seemed like she had the ideal life but something seems off. But as she searches for answers she might not like what she finds.
First Sentence
The scent of salt and seaweed.
This was my first book of 2017 and sadly, is not going down as a favorite. I actually read this one on the recommendation of my mother in law. She loves to read too and is always recommending books to me but we have completely different taste in books so I always decline. Which makes me feel a little bad that we can't discuss what we're reading with each other in depth. So when she mentioned this one I thought it sounded like something I might like and quickly downloaded it.
Not far into it, however, I discovered this one was not published by a mainstream publisher. That's not a bad thing but in a lot of cases that's not a good thing either. There were several typos and discrepancies that irritated me and the writing had that unpolished, amateur quality to it. I just about gave up on it even though I really wanted to finish it for my mother in laws sake.
Luckily, at some point, I became just interested enough to know what happened to finish it.
I'd love to say the ending blew me away and that it totally made the read worth it. Well, the ending surprised me alright, just not in a good way. I sat there after finishing it thinking, "what the hell did I just read?". I think the author just wanted to shock us. As if that would make up for the rest of the shoddy book. Ugh! Now what do I tell my poor mother in law? Sigh!
Should you read it?
Absolutely not. Sorry, I can't recommend it.