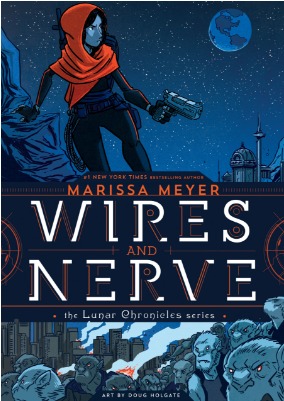 Title
Wires and Nerve (Wires and Nerve #1)
By
Marissa Meyer
Genre
Graphic Novel, Sci-fi, Adventure
Format
Print
Rating ⭐️⭐️⭐️
Synopsis
Before Cinder and her friends brought down Queen Levana, she released wolf hybrid soldiers on earth. The hybrids have gone rogue and to help her friend, Iko becomes a hunter. Determined to stop the hybrids before they kill anyone else.
I was excited to read this graphic novel and get more from the wonderful world Meyer created.
Of course, I enjoyed the story but I wasn't as wowed or in love as I wanted to be. A lot of the characters didn't look at all how I imagined them so I'm not sure what I thought of the art.
I loved the relationship between Iko and the guard Cinder sent to help her. It was obvious but funny.
I'm not sure if I'll continue with the series, though. I preferred the novels.