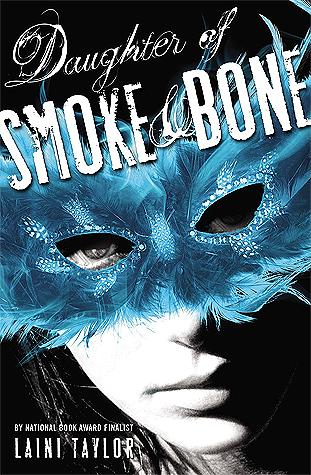 Title
Daughter of Smoke and Bone (DOSAB #1)
By
Laini Taylor
Genre
YA fantasy
Rating ⭐⭐⭐
Synopsis
Karou is an art student in Prague who's prone to go missing from time to time, has blue hair actually growing from her head that color and strange tattoos on her hands. Who she is, is the question she doesn't even know herself. In a war between monsters and angels everything is chaos.
First Sentence
Walking to school over the snow-muffled cobbles, Karou had no sinister premonitions about the day.
I've been waiting and waiting to read this book. Putting it off over and over. Everyone LOVED it and I really wanted to too but I was scared. You guys know me, I never like what everyone else does. I finally decided it was time.
It started out great. Karou was kickass had a fascinating life and was just plain fun to read about and then HE had to come into things. Why?! Why do these stupid boys exist? I hate them. Loathe them! And I'm so sick of their whiny (but I Wuvvv you so that excuses my freakishly annoying actions) attitudes. Suddenly the book took a strange turn.
What started off feeling more like my favorite genre, urban fantasy, turned into a full blown, traditional fantasy with a love at first sight romance and the most annoying male character to grace the pages of a book since Edward effing Cullen.
Needless to say I was left feeling cold. And not just because the ending was one of those stupid non endings. You know, stop the story mid sentence. So annoying!
Still, I liked the writing and because I have all three books (that's how much unfounded faith I had in this series) I'm going to finish them but oi!
Should you read it?
I kind of feel like everyone already has. If you haven't...um, ugh! I guess, just don't look for a decent male character love interest. You won't find him here.