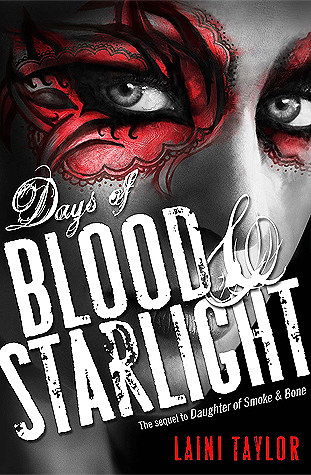 Title
Days of Blood & Starlight (DOS&B #2)
By
Laini Taylor
Genre
YA Fanstasy
Rating ⭐⭐⭐
Synopsis
Reeling from Akiva's betrayal, Karou goes to the only place she feels she can: The monsters. As their new Resurrection she throws herself into her work. But the war is just getting started and the truth that's becoming clearer may change everything.
First Sentence
Prague, early May.
I'm determined to finish this series. I'm enjoying the story mostly but the characters are still driving me nuts.
This one particularly gave me a run for my money with the characters. This book is dark. There's tons of despair and angst and outright anger lingering in the pages and the character's stupidity made me want to gouge my eyes out. I still can't stand Akiva and really wish Ziri was an option for Karou because he's a million times better but, no, she' still hung up predictably on Akiva.
If there was not instalove/we're meant to be together/fate/ bullshit, I think I could get behind these books better. As it is....the story is at least entertaining.
Should you read it
Hey, if you made it through the first one and have any desire to finish the series, sure, give it a go.