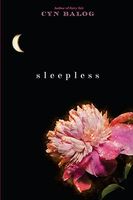 Title
Sleepless
By
Cyn Balog
For
Fun (supposed to be)
Source
I own it (unfortunately)
Synopsis
Julia has just lost her boyfriend Griffin in a car accident. Little does she know that he's been given the choice to be her Sandman for a hundred years and take the place of Julia's previous Sandman, a handsom teen who died in 1908, Eron. The problem is: if Griffin takes Eron place, Eron gets to be human again and Eron likes Julia and Julia seems to like him.
General thoughts
So, were you confused by my synopsis? So was I, confused by the whole dang book! First of all the only "point" or "moral" to the story that I could find was: it's hard to say goodbye??? I think. Seriously, people, this book was so confusing! There was supposed to be this element of danger because Griffin's friend Bret liked Julia and was making moves on her and Griffin was jealous and acting like a two year old, but it was hardly "dangerous" I'm sorry, it was just weird and I didn't get it.
Characters
I had a really hard time with ALL the characters in this book. Julia seemed completely apathetic about Griffin dying, as did Bret (his supposed best friend). Eron talked like a stuffy old man from the 1800's not the 1900's. Not one of them was realistic. Yeah, I can't think of one that I liked, not even a little.
Would I recommend it?
Not to your face! No, seriously, sorry but no.
Other opinions
One Librarians Book Reviews
WhatchYAreading
Bookish Delights