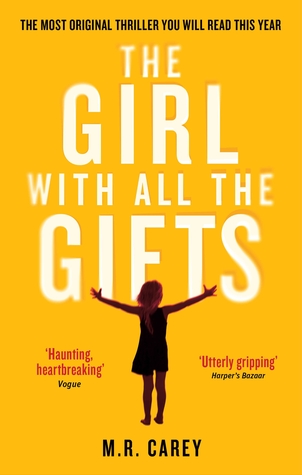 Title
The Girl With All The Gifts
By
M.R. Carey
Genre
Adult Dystopian
Rating ⭐️⭐️⭐️
Synopsis
Man kind has been wiped out by a virus that turns humans into "zombies". A small research camp has been experimenting on some young children infected with a mutated strain of the virus. But when their camp is attacked only 5 people escape. A teacher, two soldiers, a Dr. and one of the young infected children.
First Sentence
Her name Melanie.
Hi! My name is Jenny and I allow myself to be peer pressured into reading books. This one seems like it was everywhere on the blogosphere and it intrigued me. When it came up for sale on Amazon I decided to download it but had no intention of reading it any time soon. Then I found it was basically a "zombie" book and REALLY had no intention of rushing to it. However, for whatever reason, I decided to read it one day and well, here we are. The problem with peer pressure is that far to often a book everyone loves tends to disappoint me. This one, while not disappointing was not exactly mind blowing either. I just don't get why some books are so popular. It must be the zombie thing.
The writing style was weird and too detached for me but getting glimpses into Melanie's mind was fun. I liked her and I like reading adult books from a child's perspective. But what I really enjoyed about this one was the science behind it. Have you ever heard of ophiocordyceps? No? It's a fungus that takes over an ant's body and makes it climb to a high point where it kills the ant and then begins to grow out of the ant and send out spores.
You're welcome for the graphic image! Sweet dreams! The point is the way the author played on this horrifying phenomenon. What if this creepy fungus could infect humans? And thus you have the beginnings of one hell of a dystopian tale!
With great characters, non stop action and a creepy ending, for once I'm glad I fell for peer pressure.
Should you read it?
If this sounds like your kind of thing, yes.