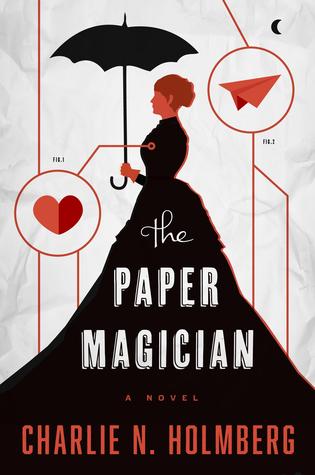 Title
The Paper Magician (The Paper Magician #1)
By
Charlie N. Holmberg
Genre
YA Fantasy
Rating ⭐️⭐️⭐️
Synopsis
Ceony Twill has just graduated Magic school. She hopes to apprentice with any kind of magic but Paper but Paper is just what she's going to get. But the Paper Magician Thane surprises her with his kindness and maybe working with paper isn't so bad. When Thane's heart is taken by his ex, an evil magician practicing the forbidden magic of flesh Ceony will have to put what little knowledge she has of paper to use and save her Thane.
First Sentence
For the past five years, Ceony had wanted to be a Smelter.
A local author and book club book made this one an inevitable read for me. I'd seen it around and had been curious but my book club made me pick it up sooner than I had intended.
I actually ended up liking this one. Which is no surprise since the majority of my book club didn't like it. (I'm always of the opposite opinion) I thought Thane was instantly likable and could see what Ceony liked about him. I also like how she went into his heart and got to learn so much about him. Ceony bugged me a bit at first because of her somewhat snooty manner but she started to grow on me. And she was definitely braver than I am.
It was a quick and fun adventure and I'm interested enough to read the rest of the series.
My book club's major problem with this one was there wasn't enough meat to it. It is short at just over 200 pages and I completely agree with them that there should have been a bit more to it. One book club member pointed out that the second act was missing and it was voted the best analogy of the night. The second act is indeed missing. We go from introductions straight to the final show down.
I, however, was more forgiving. This is the authors's first book and I thought for a debut book it was fine. It could have been better with a bit more story but I liked it.
Should you read it
I wouldn't shove this one at you as the best book ever written but I'd give it a thumbs up if you asked.