I could do a whole post about this and how it applies to life, but since this is mostly a book blog, and I don't want to depress you with my "life theories", I'll stick to bookish relevance....You're welcome. ;)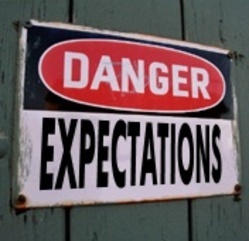 We've all been there, waiting for that book that sounds so amazing. Eagerly reading reviews that are raving about said book. Everyone seems to be talking about it, and, at long last, we get our hands on it and begin to read; our expectations high enough to raise the roof.
Here's where we run into trouble. If we're lucky we love the book as much as we wanted to; as much as everyone else, but sometimes, lets face it, we're left wondering, what the hell?!
The question that's bouncing around my head is this: Is it those high expectations that are ruining the book for us? Had we gone into it with less feverish expectancy would we have enjoyed it more? And if so, does that mean we should be eternal pessimistic readers?
I've gone into plenty of books with high expectations that everyone said I'd love that I did, in fact, end up loving (Harry Potter, The Hunger Games) but it usually seems that if my expectations are too high I end up being disappointed. However, I've also had absolutely NO expectation about a book and ended up hating it as well. So, DO our expectations effect our feelings about books?
What say you? And if it is high expectations ruining books for us how on earth do we lower those expectations without being a depressing pessimistic?