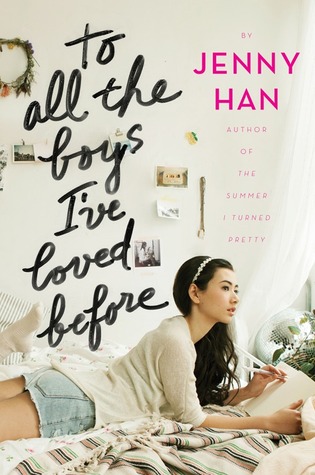 Title
To All The Boys I've Loved Before
By
Jenny Han
Genre
YA contemporary
Pages
288
First Sentence
I like to save things.
Synopsis
Though she's never had a boyfriend, Lara Jean has loved 5 boys in her life. Of course they know nothing about her feelings. That is until her habit of writing a love letter to get over these loves blows up in her face. Somehow her letters get mailed and things are about to get very complicated for Lara Jean.
What it has going for it
When I saw that Jenny Han wrote another book I had to read it. Jenny Han is the master of the love triangle/sqaure/how ever many guys. I hate the love triangle. I think we pretty much all do but mostly, for me, it's because it isn't a love triangle you know who the girl is going to choose and it's pathetic. When I say Jenny is the master of the love triangle it's because when I read her books and am introduced to all these guys I feel as helplessly confused as the poor girl.Who to choose? You really feel like the character is really torn and and so are you. I love it!
I love watching these imperfect characters take a good, long, hard look at themselves and grow up a little. I love books where there's human imperfections and character growth.
I really wasn't sure how to feel about Peter but by the end, right along with Lara Jean, I really kinda sorta liked him and now I'm all torn up inside! Eeeeek!
I loved the realistic family relationships. While the family did have an almost unbelievable, too good to be true feeling about them, I still liked it
What's lacking
Jenny Han's main characters always seem horrifically immature. Sadly I think it's because most the YA characters we read about act more like 20 somethings so we get used to that idea. I have to remind myself of how me and my friends acted at 16 and, yeah,we were pretty immature and stupid. Still, sometimes I rolled my eyes at how annoying Lara Jean was.
That ending!!! Dude if this wasn't a series I would have killed someone. I thought it was a stand alone and seriously freaked out at the end. Not cool!
Yea or Nay?
I say go for it. There's some eye rolling in these pages but mostly there's just smiles.