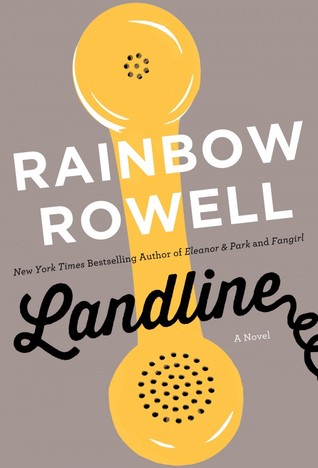 Title
Landline
By
Rainbow Rowell
Genre
Adult contemporary
Rating ⭐⭐
Synopsis
Georgie is a successful writer on a TV show. Her marriage is struggling but until she can't go with her husband and kids out of town for Christmas, she thought things would be OK. When her husband takes the kids and leaves without her she's scared her marriage may be unfixable. Discovering a way she can talk to her husband from the past on her mom's old landline, Georgie tries to fix her marriage before it ever started.
First Sentence
Georgie pulled into the driveway, swerving to miss a bike.
Well, folks, this is my third Rainbow Rowell and I didn't much like it any more than her others. As always I love Rowell's writing. It's very well done and makes things vividly clear. Her stories are always engrossing and draw me in. I can't put them down.
I read this one for book club and it was a great discussion. There's much to talk about in these pages. The idea of (if you could do it all over again, would you make the same choices?) was a wonderful topic for discussion. So writing and plot were great. What's my problem, you ask? The characters. I finally discovered what it is about Rowell's books that I don't like and it's the characters. They have too many issues that don't mesh well with one another.
Obviously there needs to be conflict in a story, and Rowell creates it with these issue-y characters. I don't have a problem with that. What I do have a problem with is the way these issues meet. I think she creates toxic relationships. Relationships that will never work out. There's opposites attract and then there's this. Relationships that are...well....toxic. Hopeless.
I thought Neil (Georgie's husband) was a whiny little mope who blamed all his choices and resulting reactions to those choices on Georgie. Did I think Georgie was perfect? No. But I thought she was who she was and who she'd always been and just because she had goals and a future to work for and Neal didn't, he resented her.
So....yeah. I thought the book was written well and did exactly what it was supposed to do. Make you think and discuss. I just don't like reading about toxic relationships. There's no hope in them.
Should you read it?
I guess you could and you'd probably like it. I however, think you wouldn't miss out on anything if you skipped it.