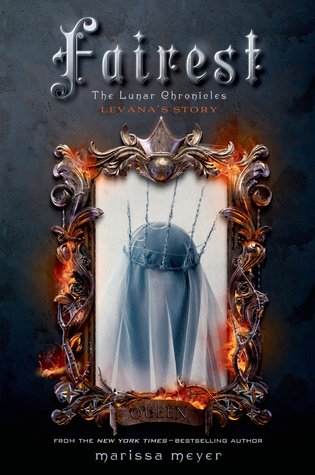 Title
Fairest (The Lunar Chronicles 3.5)
By
Marissa Meyer
Genre
YA fantasy/scifi
Pages
222
Synopsis
This bridge book between Cress and Winter tells the story of Queen Levana and how she became the unassuming sister to the heir of Luna to its cold-hearted queen.
First Sentence
She was lying on a burning pyre, hot coals beneath her back.
What it has going for it
To be honest with you, even though I adore this series, I didn't have high hopes for this one. I didn't think it would be awful or hard to read but I just wasn't looking forward to it. Well, I sat down to read a few chapters and ended up reading the whole book. Of course I loved it! Don't get me wrong, it's hard to watch poor Levana become the cold-hearted beotch she is at the beginning of Cinder, but it was still entertaining. And interesting. I liked seeing how everything is fitting together. I loved seeing the start of the plague and the wolf soldiers. I loved getting a small glimpse of Winter and seeing where she falls into things. I can't wait to read her story. Meyer is an expert at weaving all the little details together into a beautiful piece of art and this book was no exception.
What's lacking
You can't really root for anyone is this story. It's Levana, for heavens sake! Seeing where she's coming from makes you a little sympathetic but she's still pretty awful. It's hard to read a book where you're not rooting for the MC.
Yea or Nay?
Is this one necessary to enjoy the series as a whole? I haven't read Winter yet, so I can't say for sure but I definitely would recommend it. It's very interesting to have all the little details that are only hinted at in the other books explained in full.