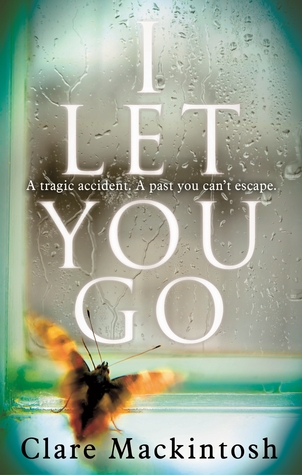 Title
I Let You Go
By
Clare Mackintosh
Genre
Adult, Suspense, Crime
Rating ⭐️⭐️⭐️
Synopsis
A hit and run takes the life of a child. Detective Inspector Ray Stevens is determined to find the driver but has nothing to go on.
Jenna Gray, devastated at the loss of her child and the horrible memory of the accident runs away from the life she's known to Wales. Hiding out in a small rental on the beach she slowly begins to heal but the past isn't done with her yet.
First Sentence
Detective Inspector Ray Stevens stood next to the window and contemplated his office chair on which, an arm had been broken for at least a year.
As I've mentioned before, I used to love crime novels (a story that follows a detective or police officer as they solve a crime) but have been having a hard time enjoying them these days. I'm determined to not lose my love of them, though and have heard good things about this author so I decided to give this one a go.
And I ended up liking it. Mostly because as we followed Detective Stevens we saw a lot of his personal life and not just the investigation. I ended up really liking him in spite of a few things and am curious if he features in the author's other books. I kind of hope so.
We also get a first person POV from Jenna as she escapes to Wales and tries to start a new life. While I found her a bit too victimized and fragile I did have empathy for her.
I was shocked numerous times in the book, which, as you know, is rare. I always see things coming from a mile away but was shocked at how easily I had been mislead and fooled. I did not see several twists and really enjoyed being surprised.
I listened to this one and really liked the two narrators and was entranced the whole time. I loved how just as you start to think things will settle down and this might be a quieter book, you get wrenched back into the mystery and suspense. It easily distracted me from hours of painting and cleaning during the remodel.
The epilogue threw in a little twist that had be rolling my eyes and docking one star from my review. Sorry, but I really hate endings like that. It would have been just fine the way it was, thank you very much. Still, it was an entertaining read that had me on the edge of my seat.
Should you read it?
Usually I only recommend these types of books to people who like them but this one I'd recommend to anyone. Even those who DON'T like these types. I think they'll like this one.