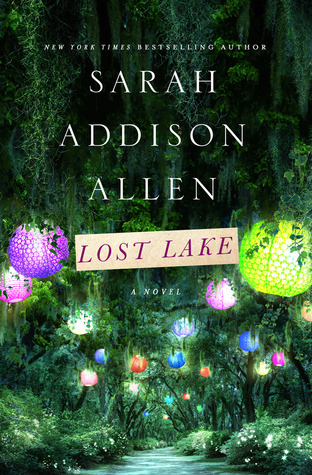 Title
Lost Lake
By
Sarah Addison Allen
Genre
Adult magic realism
Pages
296
First Sentence
"Wake up, Kate!"
Synopsis
Suley, Georgia, is home to Lost Lake Cottages and not much else. Which is why it's the perfect place for newly-widowed Kate and her eccentric eight-year-old daughter Devin to heal. Kate spent one memorable childhood summer at Lost Lake, had her first almost-kiss at Lost Lake, and met a boy named Wes at Lost Lake. It was a place for dreaming. But Kate doesn't believe in dreams anymore, and her Aunt Eby, Lost Lake's owner, wants to sell the place and move on. Lost Lake's magic is gone. As Kate discovers that time has a way of standing still at Lost Lake can she bring the cottages—and her heart—back to life? (From Goodreads)
What it has going for it
I love Allen's books. Let's just get that out of the way. I love how magical and perfect they are. Realistic? No. They're full of hope and happy endings and, let's face it, life isn't that way at all. But that's what makes Allen's books so wonderful. When life in all its dreariness gets you down, you can count on Allen to lift you up with humor, magic, and happy ever after. Lost lake starts out rather sadly. It seems that all the characters are a little lost a, a little out of hope but with the help from a alligator/boy and a little bit of magic everything turns out OK. While this one wasn't my favorite Allen because nothing in it really hit home with me at this time in my life, I still loved it. It was just what I needed and I flew through it. I'm determined to read more of Allen's books now.
What's lacking
Like I said, this one didn't have some hidden message that struck home with me. So, while I loved it, it didn't move me. When I read The Sugar Queen by Allen, it totally hit home with me. That one will always have a special place in my heart. I'll remember Lost Lake, though. It sounded so magical and warm and safe. I really have no complaints.
Yea or Nay?
Yes, I'd recommend Allen's books to anyone.