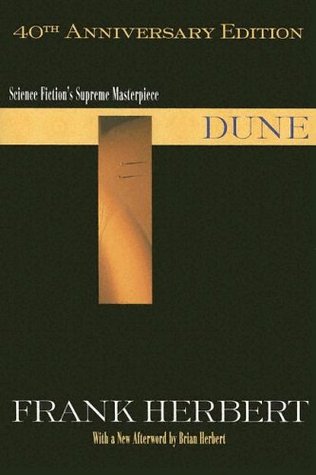 Title
Dune
By
Frank Herbert
Genre
Adult Scifi
Pages
528
First Sentence
In the week before their departure to Arrakis, when all the final scurrying about had reached a nearly unbearable frenzy, an old crone came to visit the mother of the boy, Paul.
Synopsis
Set on the desert planet Arrakis,
Dune
is the story of the boy Paul Atreides, who would become the mysterious man known as Muad'Dib. He would avenge the traitorous plot against his noble family--and would bring to fruition humankind's most ancient and unattainable dream. (from Goodreads)
What is has going for it
I'll make this short and sweet. If you want to read my discussion posts about this book for a more in depth review you can find them here, here and here. I read this one for Book Club and as part of a read along hosted by Jenni, Kami, and Suey. The read-along was awesome. There were Twitter chats and a sort of ongoing discussion going on all the time. I really enjoyed that aspect of reading this book. And while I can say I'm glad I read it, and no, it wasn't torture, I enjoyed the read along better then the book.
What's lacking
My biggest problem with this one was that it starts out very confusing and took quite awhile to get into. That being said, once you do get into it, it moves along at a quick pace, covering a lot of ground...Too much ground. It just seemed like too much happened for one book. Even if it was over 500 pages. I also really disliked the way Paul turned out. He seemed too bitter at being a slave to fate. Even though, Jenni assures me that, when read again and again, one picks up on so much more and might have a different opinion of Paul, I don't think I'll read it again.
So, no, I didn't hate this one I just didn't really like it.
Yea or Nay?
If you love scifi and classics, then yes. Otherwise, it's not one I'd recommend.