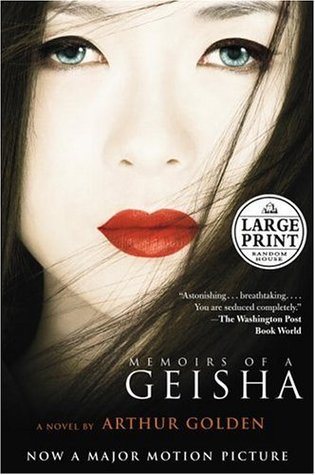 Title
Memoirs of a Geisha
By
Arthur Golden
Genre
Adult Historical Fiction
Rating ⭐️⭐️
Synopsis
This fictional story follows young Chiyo as she's sold from her family home and enters the world of a Geisha.
First Sentence
Suppose that you and I were sitting in a quiet room overlooking a garden, chatting and sipping at our cups of green tea while we talked about something that happened along while ago, and I said to you, "That afternoon when I met so-and-so...was the very best afternoon of my life, and also the very worst afternoon."
This one was another book I read for book club. And let me tell you, I was completely against reading this book. I saw the movie and though I remember nothing about it I remember not liking it so reading the 500 page book really didn't appeal to me, you know? But I sucked it up and picked up the book and as it often goes, I actually didn't mind the book. I didn't love it... I didn't even like it. I thought it was OK. But I did enjoy reading it. The writing is perfect for this type of story. It's like the fictional character is right there telling you all about their past over a cup of tea. I was quite engrossed. The story was interesting and engaging. It was fun following Chiyo as she lived her life.
I had several grievances with the book, however, and that's why it was only an "OK" read for me. I hated the way the Translators Notes at the beginning seem to trick you into thinking this is a real story. It's not. Nothing in it is real or based on real people. Yes, there were Geisha and I believe the author interviewed one for the book but the story is completely made up.
And if I'm being honest, it shows. Things just worked out a little too neatly for our MC and that always bugs me. Not to mention it makes things feel fake. I just didn't get her attraction to the Chairman. He was old and completely cold and distant with her and yet, she worshiped him. In fact, her adoration of him seemed to be the whole driving force behind her story. *shrugs* I just didn't find it satisfying.
Should you read it?
I seem to be in the minority once again. So, sure, read it. The writing is great and the story engaging but the ending was too neat.