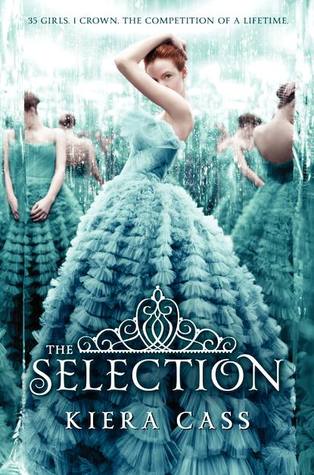 Title
The Selection (The Selection #1)
By
Kiera Cass
Genre
YA Dystopian
Rating ⭐️⭐️
Synopsis
Take ABC's The Bachelor, sprinkle in a dystopian world and angst ridden teens and you have The Selection.
First Sentence
When we got the letter in the post, my mother was ecstatic.
This book has been taunting me since its release in 2012. Dystopian books were all the rage and ABC's The Bachelor still a big hit so I'm sure the author thought to herself this would make a great premise for a YA book. And sadly, the public ate it up. I heard so many good things about this book from Goodreads. I resisted. I heard so many good things from fellow bloggers. I resisted. Then my sister read the whole series and warned me it was ridiculous but addicting. I gave in. Sigh! You know what they say: If you can't beat 'em, join' 'em.
All that being said, I went into this one with incredibly low expectations. Always a smart move, if you ask me. And, well, it was exactly what I expected. Predictable and unoriginal. Still, I wasn't completely put off by the book. I thought the story was entertaining enough. About as much as an episode of The Bachelor and at least this book was clean.
My biggest hang ups aren't about any of that, though. What bothered me was I picked up this book totally wanting a stupid fluffy read with an big fat love triangle. Hey, don't judge. I was in the mood! Anyway, I just didn't like either of the love interests. In fact, I wasn't really a fan of the MC, America either. Sigh! So now do I read the rest of the series? No really. I'm asking. I'm more of a plot girl than a character girl so not being invested in the characters doesn't really bother me. And I am sort of interested in where the plot is going. So...what do you say? Have you read the series? Does it get more interesting plot wise or is it just about the love triangle? Should I finish the series?
Should you read it?
If you haven't already I guess you could give it a go. It's not the worst thing I've ever read.