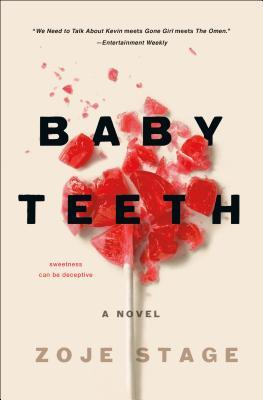 Title
Baby Teeth
By
Zoje Stage
Genre
Adult, Fiction
Format
Audio book
Rating ⭐️⭐️⭐️⭐️
Synopsis
Life was supposed to be good for Suzette now. She has her crohn's under control and is married to a wonderful man. Her seven year old daughter, Hannah, however, doesn't speak, has been kicked out of every school she was enrolled in and is growing increasingly more violent. In her father's eyes, Hannah is the perfect angel but Suzette is starting to feel like Hannah would prefer her out of the picture. Permanently.
First Sentence
Maybe the machine could see the words she never spoke.
I've been eyeing this one for a long time. For some reason I'm fascinated with stories of psychotic children. I think I was expecting a disturbing horror like book and while I found this one incredibly disturbing, I think the author was going for a more serious issue-y book???
I'm not sure. All I know is I couldn't put it down. I was disturbingly fascinated from the get go.
There were a lot of plot holes in this one. I highly doubt the father would be THAT blind to how psychotic his daughter was and there was no way Suzette wouldn't have thought to record her daughter's behavior. I feel like those things were left out just to keep the story going. So, yeah, like I said, holes.
Still, the book was a page turner and all in all I enjoyed it. It was very disturbing and I kept shaking my head and muttering, "what the hell is wrong with this kid" but I couldn't look away.