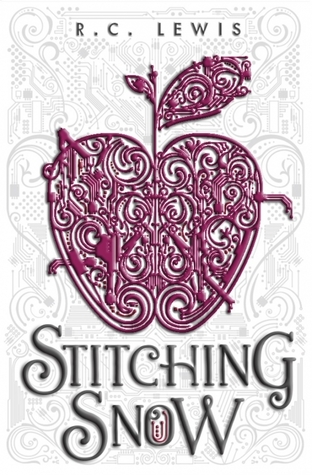 Title
Stitching Snow
By
R.C. Lewis
Genre
YA Fantasy Retelling
Pages
338
Synopsis
When a mysterious young man named Dane crash-lands near her home, Essie agrees to help the pilot repair his ship. But soon she realizes that Dane's arrival was far from accidental, and she's pulled into the heart of a war she's risked everything to avoid. With the galaxy's future—and her own—in jeopardy, Essie must choose who to trust in a fiery fight for survival.
(From
Goodreads
)
First Sentence
It took me seventeen seconds to decide Jarom Thacker's reputation as the sharpest fighter on Thanda had been exaggerated.
What it has going for it
I first heard of Stitching Snow from a blogging and IRL friend
Jenni
. She raved about this book. I knew it was a retelling but I didn't realize it was a retelling set in a scifi world much like The Lunar Chronicles. That being said, make no mistake this is not a ripoff of Meyer's work. This story is unique. The wold is unique and the retelling is done so subtly it feels fresh! A gigantic accomplishment, if you ask me. I loved Essie, our main character, she was braver than she believed her self to be. She was always determined to do what was right even if she was scared spitless. The adventure was awesome as well. The best part, really. Joining Essie in her journey from world to world to the final show down with the evil queen was just plain fun! I'll definitely be picking up any other book Lewis writes, starting with her sequel/companion novel Spinning Stars a retelling of The Wild Swans.
What's lacking
Stitching Snow was great, guys, but it wasn't perfect. The only things that really bugged be were 1) I just couldn't get on board with the love interest Dane. He bothered me, I won't say more because it's really not a reflection on the book. It was just a presonal preference thing. 2) The story was great but there was a choppiness to it that was a little jarring. I don't know how to describe it, really, it just didn't flow from scene to scene very well. Still, I believe, that this minute detail was due more to this being Lewis' first novel than anything else and I believe and hope that choppy feel will be absent in her next book.
Yea or Nay?
If you love retellings with awesome kickass heroines than look no further.