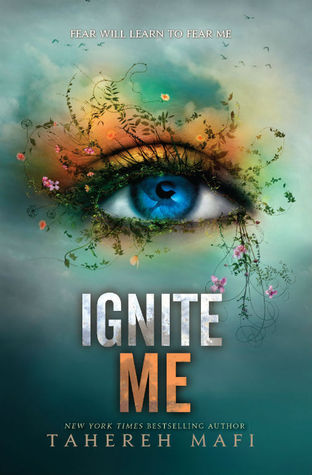 Title
Ignite Me (Shatter Me 3)
By
Tahereh Mafi
Genre
YA Supernatural/paranormal
Pages
421
Synopsis
Juliette is back from the dead, and apparently back with a new attitude. She's ready to take over the Reestablishment and lead the world back to peace and prosperity. But first she has to make up her mind about her new feelings for Warner. Learn to control her power and deal with Adam's hostility.
First Sentence
I am an Hourglass.
Warning: Spoilers Ahead!
What it has going for it
Yay! I did it! I finished this series! And I must say. I don't regret reading it. That isn't to say I loved it or anything but I was satisfied with the ending. I loved in this one that there were no more crossed out sentences and that Juliette finally was strong and in control and ready to take on the world. I loved that she was smart enough to see how wrong Adam was for her. I wasn't in love with Warner but he was definitely the better man and a better fit for Juliette. I liked that the over the top poetic writing was not so overwhelming anymore. It was kind of scary how much this book changes from the others. It's like Tahereh knew her wimpy MC and poetic writing was driving me nuts and changed it all just for me. I know the change wasn't for me, though. I saw how the writing progressed as Juliette progressed and I must say, I was impressed with the change. Shout out to Kenji for being so awesome. I loved this character and I loved him most in this installment. (besides the small lie he told Adam) And yes, those steamy scenes!!! Sigh! They were perfectly titillating without being too detailed and they trailed off in the right places. This is supposed to be a YA series, after all.
What's lacking
As much as I liked the changes for the better I would have liked to see a bit of a more smooth transition. It was a bit rough. This series has way too much drama and talking and "not a lot going on-ness" if you ask me. Which, you didn't but, hey. I like more plot. This one had about 20 pages of plot at the end and a whole lot of drama for the other 400 pages. It didn't bother me too much though and that's saying something.
Yea or Nay?
I would actually recommend this series. If you can drag yourself through the overly flowerly writing and wimpy Juliette in the first two books there's a tolerable series buried here.