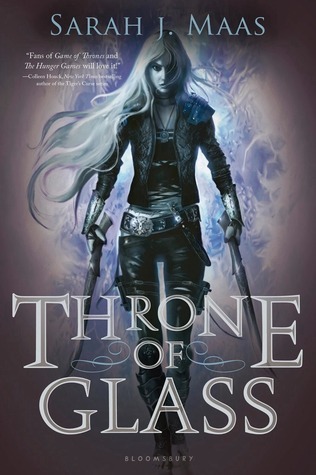 Title
Throne of Glass (Throne of Glass #1)
By
Sarah J Maas
Genre
YA Fantasy
Pages
404
Synopsis
With a mysterious past, Celaena was raised to be an assassin. For years she was the greatest assassin the land ever knew but then she was thrown into the mining pits of Endovier. When the crown prince and the captain of the royal guard come to her they offer her freedom if she will fight in a competition. The prize: the king's champion. Celaena agrees but when she arrives at the castle and enters the competition things begin to get tricky. Her competitors are being murdered and though magic has been outlawed it looks like magic is behind the attacks. Can Celaena stay alive long enough to win her freedom?
First Sentence
After a year of slavery in the Salt Mines of Endovier, Celaena Sardothien was accustomed to being escorted everywhere in shackles and at sword point.

What it has going for it
I know I'm so behind the band wagon on this series it's pathetic. Because I'm so behind on it a lot of things have been spoiled for me. For example, I knew this first book of the series isn't supposed to be as good as the rest, and that a lot of people were mad about this one because Celaena is supposed to be this awesome assassin and she doesn't even kill anyone in this book. So I went into this one with a grain of salt, so to speak, and just enjoyed it for what it was: The beginning to an epic fantasy series. Mostly the book is set up for the rest of the series but it had an arc, conflict and resolution. I enjoyed the banter between Celaena and Choal and Prince Dorian. I was intrigued by the hint of magic and the set up for the rest of the series. I went into this book knowing I was going to read the second book too so I could see for myself if it's worth continuing the series and I plan on reading it and the rest of the series as of right now.
What's lacking
Even though I knew Celaena wasn't going to be as kick ass as one might expect from the land's most notorious assassin, it still was annoying. I wasn't even bothered that she didn't kill anyone so much as how clueless she seemed. People snuck up her and surprised her and that just didn't fit. The author would tell you how amazing she was and then show you that she wasn't. I knew it was going to do that but it still bugged me. Other than that I have no other complaints.
Yea or Nay?
If you haven't read this one, I'd recommend it. It had faults but I'm willing to overlook them for the fun characters and crazy story.