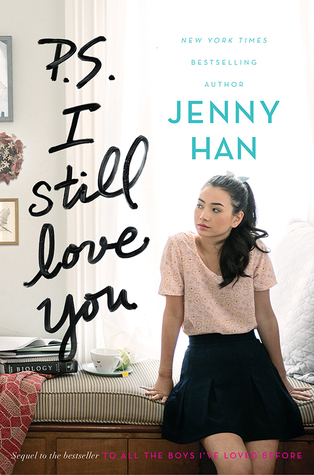 Title
P.S. I Still Love You (To All The Boys I've Loved Before)
By
Jenny Han
Genre
YA Contemporary
Pages
352
Synopsis
Lara Jean is in a real relationship for the first time in her life. She didn't expect to fall for Peter but she has. Things would be perfect but Genevieve, Peter's Ex, won't let him go. To complicate things even more, John, a boy from Laura Jean's past shows up. He's charming and sweet and completely enamored with Laura Jean. Will Peter stay true to her? Can she stay true to him? Will Laura Jean's first relationship be her last?
First Sentence
Dear Peter, I miss you.
What it has going for it
I enjoyed the first book in this series, To All The Boys I've Loved Before, so much that I couldn't wait to get to this one. It was fun seeing how Laura Jean and Peter get along in a real relationship. I supposed on some level I was supposed to feel sorry for Genevieve but she just drove be crazy! And just when I was rooting for Peter and Laura Jean to make it, John showed up. Argh! He was so sweet and kind and the things he said....Sigh! I just loved him. Jenny Han is the true queen of the love triangle. You say you hate love triangles? Well, read one of hers. You'll be so confused and torn between the love interests you'll be pulling out your hair. If you're going to put a love triangle in your book it better be a real one. Where the MC can't choose between her beau's and neither can you. That's what I say, anyway.
What's lacking
This one felt a bit too meandering, if that makes sense. It had a lot of little things going on rather than one big thing and it was OK but kind of made it hard to keep reading. I wasn't sure what the big conflict was. Also, please tell me that's not the end of the series! Goodreads doesn't have any info on a third book. There has to be a third book! There just has to!
Yea or Nay?
I'll always recommend Jenny Han's books. You have to read a book where the love triangle is done right!